Your essential student and lifestyle card
۷۵۰۰۰ Tomans instead of 130000 Tomans

۵۵۰۰۰ Tomans discount
Only until 8pm tonight
Time left to use the discount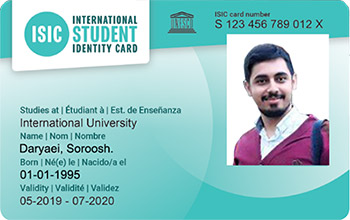 About ISIC Card
The ISIC card allows students the world over to prove their official student status and make the most of thousands of targeted student benefits and discounts in over ۱۳۰ countries.
Developed to help nurture cross-cultural understanding and international exchange, the card originally provided students with access to exclusive discounts on travel opportunities, allowing cardholders to discover and interact with new countries, cultures and languages at reduced rates.
Now, firmly in the digital age, the ISIC card has evolved to best meet the needs of the modern day student. Although travel benefits will always remain central to the card, ISIC cardholders also gain preferential and discounted access to over 150,000 products, services and experiences relevant to all aspects of student life. There are a multitude of offers available to ISIC cardholders, from educational courses, software licenses, digital communications, public transport and magazine subscriptions, to music streaming, cafés and eateries, music festivals, theme parks, sporting events, world heritage sites and more!.
The ISIC card has been endorsed by the United Nations Educational, Scientific and Cultural Organization (UNESCO) since 1968.  The card is recognised by universities, academic institutions, student unions, national governments, financial institutions and ministries of education around the world.
?Can I use my card as proof of identity
The ISIC card is proof of student status and can be used to identify yourself in different places in multiple counties worldwide. However, some countries may require a different form of personal identification so please check with the local regulations in advance if you are travelling there.  Please note, the ISIC card is not accepted as a form of identity in the U.S., where only government issued forms of identity are accepted in all parts of the country.
ISIC card is the only internationally-recognised student ID. For over 50 years, ISIC card holders have members of a truly global club. Every year, more than 5 million students from 133 countries use their student to take advantage of offers on:
Global ISIC Discounts and Benefits
۲,۸۰۰ Museums and Culture Sites
۲,۴۰۰ Hostels and Budget Hotel
۱,۲۰۰ Airlines, Buses, Coaches, Trains, and Ferries
۲,۷۰۰ Attractions
۲۱,۰۰۰ Restaurants, Bars and Entertainment
More than 150000 Discounts and growing
Over 130 countries around the world
About 4000000 Active cardholders
International Student Identity Card
Travel Discounts

Accommodation Discounts
Food Discounts

Transport Discounts

Insurance Discounts
Entertainment Discounts

ISIC in IRAN
The Office of Student Affairs (Office of the Non-Iranian Students General) supports receiving an international student card, especially for international university students. This card, while making it easier for them to provide international services, enables them to use national and international card services. In addition, courses are provided to provide effective adaptation and socialization of international students in Iran and provide international students with cultural, artistic and scientific services.
In addition to 35,000 services and discounts in Iran and around the world, Iranian students can receive an international faculty and student card to receive discounts at international conferences.
It is recommended to use a valid ISIC International Identity Card to validate their academic overseas travel.
It should be noted that 15,000 tomans of student membership fees and faculty members who use this panel to register their cards have been borne by the Office of Non-Iranian Students' Affairs.
سازمان امور دانشجویان (اداره کل دانشجویان غیر ایرانی) از دریافت کارت دانشجویی بین المللی به ویژه برای دانشجویان بین المللی دانشگاه ها حمایت می کند. این کارت، ضمن سهولت در ارائه خدمات بین المللی به ایشان، امکان استفاده از خدمات ملی و بین المللی کارت را فراهم می نماید. علاوه بر این، دوره های مود نیاز برای ایجاد سازگازی موثر و جامعه پذیری دانشجویان بین المللی در ایران فراهم گردیده و خدمات علمی فرهنگی و هنری توسط این سازمان به دانشجویان بین المللی ارائه می گردد.
همچنین دانشجویان ایرانی علاوه بر ۳۵ هزار خدمت و تخفیف در ایران و جهان می توانند برای دریافت تخفیف شرکت در کنفرانس های بین المللی، از کارت بین المللی هیات علمی و دانشجویی بهره مند گردند.
استفاده از کارت هویت بین المللی معتبر ISIC جهت احراز هویت دانشگاهی آنان در مسافرت های خارج از کشور توصیه می شود.
لازم به توضیح است ۱۵ هزار تومان از هزینه عضویت دانشجویان و اعضای هیات علمی که از این پنل برای ثبت نام کارت خود استفاده نمایند، توسط اداره کل دانشجویان غیر ایرانی سازمان امور دانشجویان تقبل گردیده است.
بنده دانشجوی سال سوم رشته علوم سیاسی و اصالتاً افغانستانی هستم. منم خواستم حسمو با شما دوستان در میان بگذارم: بنده در دانشگاه تهران با سازمان آشنا شدم و خوشحالم که برای رفاه حال دانشجویان از هر تلاشی دریغ نمی‌شود و از این بابت از سازمان بسیار سپاسگزارم.
بنده چند سالی هست با سازمان آشنایی دارم ولی به شرایطی تازه وارد سازمان شدم چون بنده در شرایط خاص تبعه بودن نمی‌توانستم عضو بشم تا اینکه توانستم گذرنامه خود را بگیرم و عضو شوم و از سازمان تقاضا دارم برای اتباع در ایران به خصوص شرایط بیمه دانشجویی تامین اجتماعی را در سیستم خود قرار دهند. با سپاس فراوان.
How can I become a member of the organization in Iran?
۲٫ Complete the form and
Attach Your personal photo and student card.
۳٫
Pay for membership fees.
۴٫
Wait about 10 to 14 days to check documents and issue a membership card.
I have problems accessing or using the ISIC services.
۷۵۰۰۰ Tomans instead of 130000 Tomans

۵۵۰۰۰ Tomans discount
Only until 8pm tonight
Time left to use the discount